General questions
Here you will find tips and answers about our wristbands and website
General questions
1) Can I save my design?
Yes, go to editor and click on "save". Log into your account or sign up to create a new customer account. Go to "Account/Designs" to see all the designs you have saved.
2) Are the layouts reviewed before printing?
Yes, we will check your draft and get in touch with you as soon as we notice a problem with your wristband or any other product. We will, however, not correct spelling and punctuation. Complaints and returns based on the review of your layout cannot be accepted.
3) Delivery
How long is the usual delivery time? Do you ship worldwide? Please go to
"Terms of delivery"
for further information.
4) How do I know what kind of quality your wristbands have?
We only use high-quality material for all of our wristbands. As we are constantly testing our material we can assure you to only receive a high-quality product. If you wish to convince yourself of our quality we offer to send you a general sample. Please fill out our
request form
.
5) Can I order a sample before buying?
Yes, you can request samples for free via our request form. Please note that we can only offer you a range of
general samples
. For orders over 5.000 wristbands we are happy to also offer you a custom made sample. Delivery for custom samples will take a few days longer.
Artwork and design – Help & Tips
1) Own photos: Tips to ensure good quality
Please make sure your photos are of sufficient quality. Follow our tips:
To achieve the best result please use a "jpg" file
We suggest that any photos you like to use are of standard quality (e.g. photos sent via Whatsapp are automatically scaled down/compressed) ideally with a resolution of 300 dpi (right-hand click on photo > settings > details). Your upload file will then have a minimum size of 1 MB.
2) Editing tool / editor
3) Add text box
A)
For adding text click on "T" on the top left
B)
Go on "Adding text"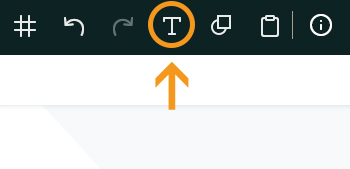 4) Edit Text
You have two options to edit a text:
A)
Click on the text box you would like to edit. As soon as a window pops open click on the pencil
B)
Double click on the text shown to start writing
5) Tools
We know all these tools can be overwhelming but you can be rest assured that often only a few clicks are needed to adjust your personal wristband to your satisfaction. For all customers looking for "a little extra" we offer a
detailed and structured graphic
that leaves no questions unanswered.
6) Add images
Go on the left tab "Upload image" and select an image on your computer. You can also upload images from your Instagram and/or Facebook account or use our free data base "Pixabay". The selected image will appear on the left. Click on the image to automatically add it. You can also "Drag&Drop" your image as usual.
JA! Sofern es in der Vorlage eingebaut ist einfach das Logo anwählen und anschließend auf den Mülleimer klicken
Placing an order
1) Can I order a revised version of my layout?
Yes, please add your layout to the shopping cart. Go to shopping cart and click on "Duplicate design".
PLEASE NOTE! As soon as you revised the duplicated layout you cannot go back to the old design!
The editor will only show you the new design. But don't panic! We will save your old design. Please add the new design to your shopping cart. The product review might show you only the first version of layout (old design).
To be on the safe side
that you will receive the correct products, please go to "Comments" in the ordner process and let us know that you are ordering two different layouts.
2) Will I receive an order confirmation?
You will not only receive an order confirmation, we will additionally send you updates of your order by email. To ensure you have received the email, please also check your spam/junk folder. If you chose advance payment you will also receive the payment instructions with your confirmation.
3) Reorder - Can I place a repeat order with the same design?
Of course! Select the product you ordered before and click on "Customize". Save the sample layout. Then use the
"Comments"
section and the following text "I would like to order the same layout as in my previous order no. XYZ". Please enter your old order number.
4) Reorder – Adjust order quantity
Go to the shopping cart and click on the product. Adjust the order quantity and add the product with the correct quantity to the shopping cart. Delete the item with the incorrect quantity. As soon as you can only see the item with the correct quantity in your shopping cart you are ready to order.
Download template
If you wish we can also use your own print files. Below you can find templates for all products:
A)
Template printed wristbands
B)
Template printed NEON-wristbands
C)
Template woven wristbands
D)
Template Tyvek® wristbands
Errors & Solutions
1) I cannot place my order
Make sure you have filled out all mandatory fields. In case it is still not working, please select a different payment method. Remember to wait a couple of minutes after placing the order again. Otherwise your order might be blocked to prevent a double shipment.
2) The product review does not match with my design
Don't worry! Sometimes you see an older or displaced version of your design. We will receive the correct version of your design and produce your item accordingly. Better save than sorry? Just request proof by email in our "Comments" section.
3) Colors
The editor colors might differ from the final product review colors. Please always use the product review colors as reference. Also, please note that all colors you see on screen might look a bit different than the final product.
4) You have a different question/problem?
In case you still need help, don't hesitate to fill out our
contact form
. We will get in touch with you as soon as possible.
Design checklist:
Are all relevant elements of your design within the safety distance (purple line)?
Does your layout exceed the safety distance (purple line)?

If that is the case please make sure your design does not end on the purple line but exceed it. This way we can avoid "gaps" in the final version.
Does the text stand out from the background?

PLEASE NOTE: Colors (especially on fabric and similar material) of the final product can appear darker than on the screen.
Are all text and graphic elements big enough?

We recommend a font size of "7" or more. If you chose a fabric wristband we would suggest you use a font size of at least "8" or "9". Make sure photos, logos or any other graphic elements are big enough. Some material can make them look blurry if they are too small.
If you wish to
save your design
or you have further questio ns, please
scroll up
for more information.