Print your wristbands
design and order your individual wristband quick & easy
It has never been easier! We offer you a range of
wristbands printed with a unique design
. Choose between different designs or
create your own wristband
. Our foolproof editor helps you with placing your order. Are you planning a major mind-blowing event, a magical wedding or an unforgettable birthday party? There are no limits when it comes to your creativity. Additionally to our exclusive samples we can also print your own design or logo on our wristbands. Our minimum quantity for high-quality wristbands is
20 pcs.
Regardless of fabric, woven, printed or Tyvek® (similar to paper and a cost-effective alternative) wristbands, we always provide you with the best quality.
By the way did we mention delivery within Germany is free of charge?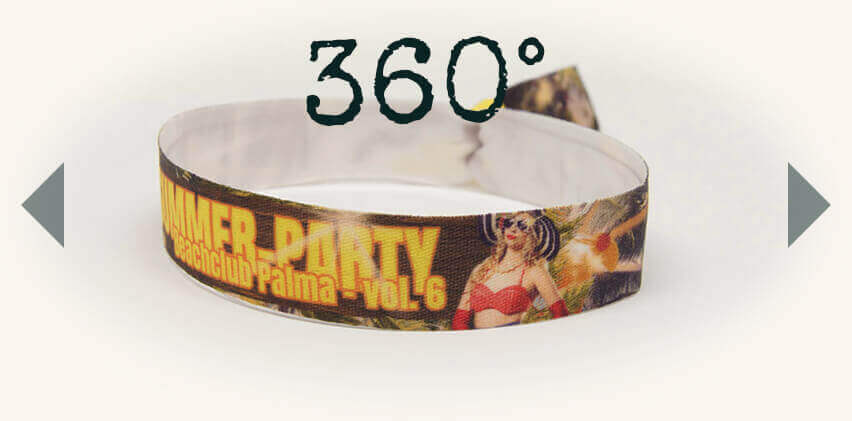 Quality:
50 or 50.000 wristband? It doesn't matter!
For 5.000 pcs or more we offer a free sample!
Delivery free of charge
Express = within 1 week
Extraordinary designs
Available only at our site!
Made in Germany
Full commitment to the best quality
Including final check
of your design
Wristbands made for every occasion
Our woven and printed wristbands are perfect for major events such as soccer/football matches, concerts and festivals. You are planning a wedding, theme or graduation party? No problem! You can use our wristbands for major as well as small and private events. They are not only a highlighting accessory but can also be used as a stylish souvenir full of memories of an unforgettable event. They have already become essential for all-inclusive hotels or group trips. Don't miss the chance to make your event unforgettable with our
fabric admission wristbands
,
woven fabric
or
Tyvek® wristbands
!
Unique designs
Perfect for admission control
Delivery free of charge(in germany)
Minimum quantity of 20pcs for fabric wristbands
Plastic lock clasp included
Selection of different lock clasps
Tear resistant
Waterproof
NEON wristbands und lock clasps
Design check free of charge
Printed, woven or Tyvek® wristband?
Which one should I choose?
We recommend our popular fabric wristbands.
The combination of a long-lasting and high-quality material allows your guests to keep it as a souvenir on their arm or at home.
Our
woven wristbands
spread real festival vibes and offer an impressive feel. You can choose between 8 colors. If you wish to add a photo or a detailed graphic (e.g. a logo) we strongly recommend our printed wristbands to achieve a high-quality result.
Our admission
wristbands made of Tyvek®
are also robust and waterproof but cannot be used as a souvenir as they are not as long-lasting as the woven version. Depending on how many wristbands you need the Tyvek® version can certainly be a cost-effective alternative. Moreover, if you would like a barcode to be printed on it we suggest you go with the Tyvek® model.
go to Design Templates
go to Design your own
Print your individual wristbands now.
Very courteous service, we received a correction suggestion for our printed cloth wristbands and promptly accepted (one line was too thin). We are excited about the result! The customization was very easy and the shipping fast. Can I recommend further :-) "
Chantal (wedding)
Everything perfect! The wristbands have become great and look like before on the screen "
Thorsten (privat event)
The bracelets were of high quality material and pressure. Definitely a good value for money! We will also order the next bracelets from you! "
Florian (corporate event)
I was very happy, I ordered bracelets and they arrived in time! The customer service has written back quickly by email and has responded to my concerns. I am extremely satisfied. The quality and the prices are top and my wishes were fulfilled. I would recommend it to everyone and I will order again if I plan something bigger again. Great job, thank you! "
Carolin (privat event)