A wristband for your wedding – to keep a beautiful memory with your loved ones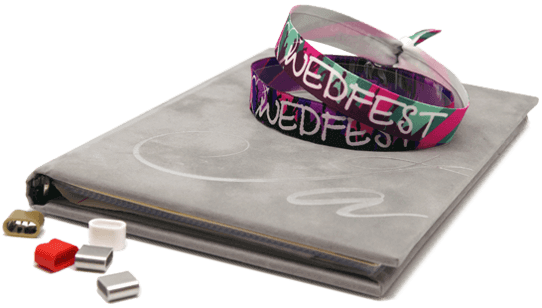 Your big day is coming and you would like your guests to have a very special gift? Our
fabric wristbands for weddings
are a perfect gift for your friends and family to always remember the best day of your life. Individual wristbands are a perfect reminder of a day full of precious moments and can be used as a souvenir after.
Choose your wedding wristband:
---
Showing 1 to 16 of 16 (1 Pages)
Simple design tool
Individual and special
Numerous pre-created
designs and possibilities
Beautiful wedding designs
Water resistant and fadeless
Wristbands for your bachelor party
Before every good wedding you need a legendary bachelor/bachelorette party. If you are still looking for a personalized gift for the bride and the rest of the girl group we recommend our wristbands. A consistent design, theme and color show everyone who the bride spend her time with before the big day. Our bachelor/bachelorette party bands strengthen the sense of belonging and bring everyone even closer together. To be reminded of a great bachelor/bachelorette party you can also wear them on the wedding and revive this feeling.